Each year, incredible supporters donate prizes, time and marketing to help us raise money for the dogs.
GET YOUR RUFFLE TICKETS!
$10 each
All money stays on Vancouver Island and goes towards Canadian dogs needing rescue assistance.
Tickets are being sold until August 6, 2015 at:
CAMPBELL RIVER
Campbell River Veterinary Hospital
Bosley's by Pet Valu Campbell River
Hound's Hangout
K9 Design Dog Grooming
Dogwood PetMart
COURTENAY/COMOX
Courtenay Veterinary Clinic
Woofy's Comox
NANAIMO
Chase River Veterinary Hospital
Bosley's (University Village & Bowen Rd)
Valhalla Pure Outfitters Nanaimo
VICTORIA
Locations to be announced!
On Aug 8 & 9 tickets will ONLY be sold at the Pet-A-Palooza event at Ogden Point, Victoria. Come down, buy a ticket and stick around for the prize draw on Aug 9 at  3:30pm! If you are unable to get to any of these locations to buy a ticket, please email us for other options at vidrsraffle@gmail.com
Last year's raffle was a huge success and we were able to cover the vet costs of many dogs that, without the public's generosity and that of local businesses, we otherwise would have not been able to help. We thank everyone for helping us do the work that we do for the dogs! Look for us on Facebook.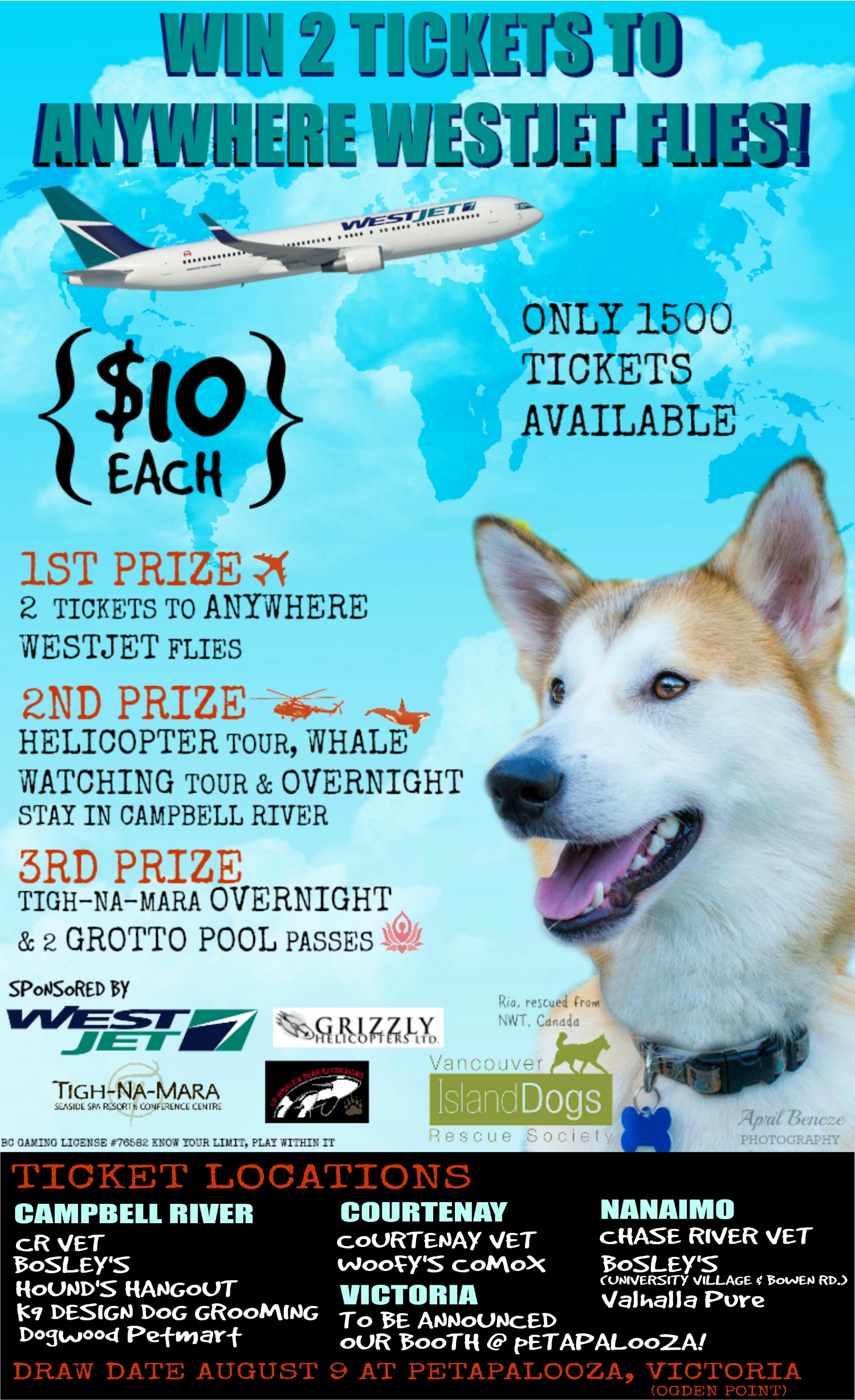 (Tickets may be sold and purchased only in British Columbia, must be 19+, Know your limit, play within it)
Our marketing supporters include:
Campbell River Mirror
Comox Valley Record
The Goat
2Day FM
The Eagle
Epic Designs
RH Printing